---
---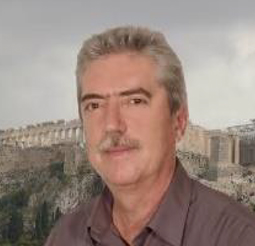 ALEXANDROS ECONOMOU - PRESIDENT
Alexandros Economou studied Psychology at the Universita Pontificia Salesiane of Rome. He continued his studies by obtaining a Post Graduate Degree in Psychic Health from the University of Athens Medical School
He has published scientific articles in various National and International publications and has participated in numerous Symposiums of Psychic Health both as a presenter and participant. He has also written a book regarding the Evaluation of Social Services.
JAN DROBNÝ - VICE PRESIDENT
Jan has been involved in physical activities (sport and leisure) for people with mental health problems for more than 20 years. Mainly as a manager and coach of foootball team for people with mental health problems. Also, he has organized several sports events for people with mental health problems.
Last two years Jan Drobny has been working as a manager of two multidisciplinary teams (CMHT) providing care to people with severe mental health problems. These programs are basic pillars of ongoing psychiatric reform in the Czech Republic.
Within years 2005 - 2012 he was working in Manchester (UK) for Salford social services as a support worker in multidisciplinary team (CMHT) providing care to people with severe mental health problems.
Within years 2009- 2012 Jan has accomplished bachelor university degree at Manchester metropolitan university (combined honours Childhood and youth/ Sport development).
Nicola Daley - SECRETARY
Nicola is the Chief Executive of MEH and has worked at MEH for over 17 years, previous roles included project management and development in the voluntary and public sector with a specific focus on European and Transnational co-operation.

Nicola has significant experience in business planning, strategic development, fundraising and financial planning as well as programme delivery and development of multi-agency learning, employment and enterprise programmes particularly working in the fields of Social Inclusion, Equality and Diversity, learning and employment, Social Enterprise and Health and Mental Health at a Local, National and European Level.
Nicola is also on the trustee board of Options a charity which supports people with learning disabilities across Merseyside and a Director of the Joseph lapin Centre, the community Hub where MEH are based. A runner and sports enthusiast also supports many active living community programs
DAVID REID - TRESURARE
David Reid has been involved with the First Fortnight Mental Health Awareness Charity and Arts Festival for over eight years. He was a board member for over six years and in May 2017 he began working for the organization as project manager. His role includes managing media partnerships, sponsorship and booking a number of festival events including Music, Sport, Tech and other related areas.
One of his main aims with First Fortnight is to establish a dedicated counseling service for members of the artistic community. To date, significant investment for this initiative has been received and the intention is to launch this service in Dublin in September 2019.
He has a keen interest in the area of Mental Health and holds a Higher Diploma in Counselling and an MA in Psychotherapy.
David also holds an MSc in Marketing and his background is within the Marketing/Sponsorship sectors. He is currently also a director of two Dublin based start-ups both of whom are supported by Enterprise Ireland, the Irish government agency established to support new Irish businesses.
.
KONSTANTINOS KARTEROLIOTIS - SCIENTIFIC VOCAL
Konstantinos Karteroliotis received his PhD degree from the University of Iowa, Iowa City, Iowa. Currently, Konstantinos Karteroliotis is a Professor at the School of Physical Education and Sport Science, National and Kapodistrian University of Athens, Greece. His research interests focus on various aspects of physical activity epidemiology, healthy aging, and mental health. Also, his methodological interests include questionnaire development, structural equation modeling, and latent growth curve modeling. Research collaboration with the Community Health Institute of Kansas State University, USA and the Faculty of Health Sciences of the University of Granada, Spain. He has published a number of scientific papers in scientific journals and conferences proceedings. He has participated in a number of European projects (Erasmus +, Tempus and he is a member of the Managing Board of the European \Network of Active Living for Mental Health (ENALMH).
MARA MORICI - VOCAL MB
Mara Morici has a Degree in Politics Studies at the University of Macerata and post-degree specialization in Management of EU funded Programmes at LUISS Business School of Rome.
From 2005-20012 I was working, as an external expert, at Marche Regional Authority, where I was in charge of technical assistance for Cross Border Cooperation Programmes.
From 2004-2016 I was working, as Project Manager, at Sviluppo Marche Spa (regional Development Agency of Marche Region). I worked in several projects financed under EU Programmes: ETC Programmes (SEE, INTERREG IV C, MED), IEE, LIFE, LLLP, ERASMUS +, FP7 and HORIZON 2020, Italian –Egypt Debt for Development SWAP Program; inter alia, member of the working group for the ex-ante evaluation of the Regional Operative Programme for European Social Fund – ESF . Since 2016 employed in COOSS Marche, Department of Research and Training, with tasks related to EU projects design and management.
GUSTAVO MARTIN VILLAREJO - VOCAN MB
Professional of the field of education and social services, I coordinate for more than 6 years different services of attention and accompaniment to people with mental health problems, among them, day centers, supervised housing, social-labor centers, community participation, leisure and free time and physical activity and sport.
In the field of physical activity and sports, for 10 years we managed the Club Deportivo Duero in Zamora and Valladolid, also forming part of the managing board of AEDIR, the Spanish Sports Association for Integration and Recovery www.aedir.es
With extensive experience of more than 15 years in the management and coordination of European projects linked to physical activity, sports and outdoor activities, I believe deeply in the power to recover sport in these people.